We have chosen the five beaches that a visitor should definitely visit. We present to you:
Agios Prokopios
Agios Prokopios beach is the most famous beach of Naxos. It is only 5 km from Chora. It has been voted by international tourism magazines as one of the best beaches of Greece and Europe. Its golden sand covers a length of about 2 km.
Agia Anna
Agia Anna beach is considered, and not unjustly, one of the most famous beaches of Naxos. It is about 6.7 km from Naxos Town. It is the natural continuation of the beach of Agios Prokopios. Its light golden sand beach attracts families looking for the perfect environment to enjoy their swim.
Plaka
Plaka beach is one of the largest beaches of Naxos, 8 km from Chora. It is 'informal' continuation of the beach of Agia Anna and Maraga. Most of it is organized with sun beds and umbrellas and the visitor can enjoy water sports. Its light, almost white sand forms small and large sand dunes that children love to play.
Alyko
Rugged sandy beach with one of the most beautiful cedar trees in Greece. Beautiful trees provide natural shade to the bathers. Visiting Alykos combines serenity and seclusion.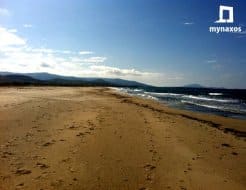 Mikri Vigla – Parthenos
Its name means the observatory from which they watched the sea for the risk of pirate invasion. Today is the beach that surfers adore and not only. It is located in the western part of the island and is 16 km from Chora. The beach is split from one rock to two. One is called Virgo and is the absolute favorite of surfers and the other, Little Vigla, which families adore for its calm waters. Both are sandy with blue waters.
Read more about the Little Vigil and the Virgin by clicking here.
You may also like